How to Add Your Library Calendar to Your Library Facebook
Welcome to our step-by-step guide on integrating the Community Calendar from your WhoFi account with your public library Facebook page. This process is particularly useful for libraries without a website or the ability to make changes to their existing website. By following these instructions, you can provide your patrons with easy access to upcoming events, registration details, and opportunities to connect with program coordinators. Let's get started!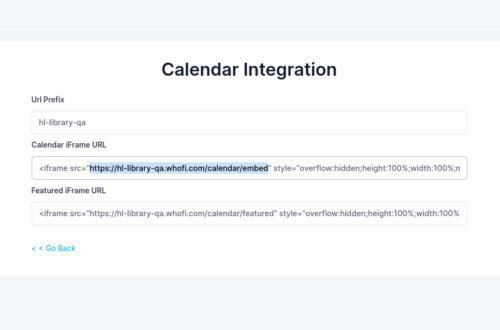 Obtaining the Integration Code from WhoFi Account
If your library doesn't frequently update its website, no need to worry! WhoFi has a solution for you.
Let's begin by accessing the admin settings of your WhoFi account and following these steps:
Login to your WhoFi account.

Navigate to Setup and click on the advanced section.

Click on "Integration" to proceed.

Copy only the URL from the integration code provided on the page. 
Linking the Community Calendar to the Library Facebook
Now, you can easily integrate the Community Calendar with your library's Facebook page using
URL you obtained. Follow these instructions:
Access the details settings of your library's Facebook page.

Look for the "About" section and locate the "Website" option.

Click the edit icon (pencil) next to the "Website" section.

Paste the code from your WhoFi account into the provided field or click add a website to include a new field.

Don't forget to save the changes before exiting the admin settings.

Congratulations! Your patrons can now click the link on your Facebook page to view all

upcoming events.
Sharing Upcoming Events on Facebook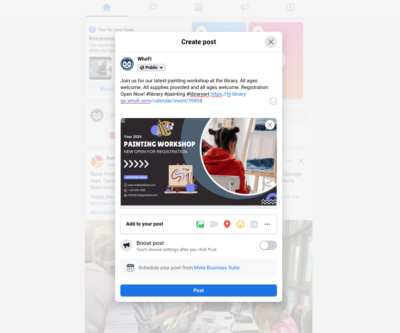 With the Community Calendar now integrated, let's explore how to share upcoming events on your
library's Facebook page:
Access the Community Calendar from your Facebook page or website.

Select the upcoming event you wish to share on Facebook.

Copy the URL from the top of your browser.

Open a blank Facebook post and paste the copied URL into it.

Personalize the Facebook post with a captivating title, event details, an image, and relevant hashtags.

Click on "Post" or "Schedule" to publish the event on Facebook.
Integrating your library calendar from WhoFi with Facebook offers a convenient way for your patrons to stay informed, participate in events, and connect with program coordinators. Whether your library has regular website updates or not, WhoFi has made it simple to keep your community engaged through Facebook. 
We hope this guide has been helpful, please add us on Facebook for more future updates at facebook.com/whofius! Should you have any questions or need further assistance, feel free to reach out for support at support@whofi.com or click the link below to set a demo. Happy event-sharing!