All Library Usage Statistics In One Central Location
---

The Challenge:
Completing the annual survey can be a daunting task for many libraries, often leaving librarians scrambling to compile accurate data. Hours, days, or even weeks are spent searching through various silos of information, both on paper and in spreadsheets. Even worse, by the time all of the numbers are compiled there is little to no time left to use them for future planning and advocacy efforts.
The Solution:
A Library Reporting Dashboard can help bring clarity and efficiency to your reporting processes. This innovative solution provides a central hub for all your library data, making it easier than ever to manage and present your statistics. Some key benefits to using these services include: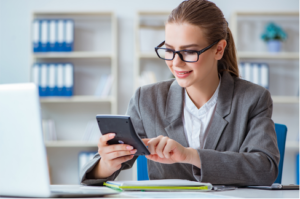 Centralized Data Management: Say goodbye to scattered data across multiple spreadsheets and handwritten notes. The library reporting dashboard offers a centralized way to collect, organize, and report on various library data elements, whether it's on a daily, monthly, or annual basis.
Customizable Reporting: Tailor your reports for local governments, internal purposes, and state reporting with ease. This flexible dashboard allows you to collect the most relevant and meaningful data for your library's unique situation.
State Survey Completion: The library reporting dashboard effortlessly guides libraries through state questions. This speeds up data compilation, and ensures standardized, accurate information reaches the state. This innovative approach saves time and also guarantees that library data aligns with state data, facilitating a much smoother reporting process.
Library Usage Statistics Reporting with a Centralized Dashboard
Utilizing library calendar software can help optimize program planning and reporting. If you're interested in a service which offers all of these benefits and more, we would recommend a meeting. WhoFi makes it easy to gather important library advocacy data throughout the year. We help eliminate the silos of information that separated this data and bring it all together  for end of year reporting. If you would like to review more of the services WhoFi offers for public libraries Click Here.
Schedule a meeting to review how WhoFi can help central library usage statistics at your library!
Schedule a Demo