Special Report Update: Effects of COVID-19 on Public Library WiFi Use
Early in the coronavirus pandemic, WhoFi released a special report about the effects of COVID-19 on public library WiFi use.  We analyzed library WiFi usage during March – the month that many libraries closed their buildings. This report consisted of consolidated data from our library partners across the U.S. to provide a better understanding of the national response to the COVID-19 outbreak and the effect on public library WiFi use. 
A PLA survey report showed that 98% of libraries closed to the public in March due to COVID-19. However, the WiFi data from our insights showed a national decrease in WiFi usage of only 67%. This shows patrons were accessing the library WiFi in other ways besides actually being in the physical library building. The same PLA survey also noted that 81% of libraries decided to leave their WiFi on and available to the public. Since a high number of libraries left WiFi on, the drop in usage of only 67% makes sense. 
Our data shows that between the first week and last week of March, visitor usage dropped significantly, then leveled. These WiFi usage trends correlated with key dates in the coronavirus timeline. 
In our Special Report Update, we used the same parameters as our initial report: gathering insights from all of our library partners combined to identify national trends, changes based on population size, and if there were any key dates that correlated with changes. Essentially, what has been the public response since the onset of the pandemic, and did library service adaptations seem to affect behavior?
Library WiFi Insights Have Shown Increased Usage Since March
Our data shows that after the initial drop in WiFi usage in March, trends steadied and then began to rise around April 26. In fact, there's a steady increase in WiFi usage nationwide and across cities and towns of all population sizes. Library efforts to enhance and extend WiFi services, paired with a solid communication plan, seem to have the desired effect of helping patrons stay connected. The total number of visits, however, isn't as high as it was prior to shut-downs. 
The national WiFi usage rates were down 70% in April from the average of previous months usage rates. By the end of June, the national WiFi usage rates increased 40%. On March 23, the ALA officially recommends libraries leave WiFi on. Our insights show that from March 15 to April 19 library WiFi usage remained about the same across population sizes. A consistent effort by the libraries to promote their continued and extended WiFi services helped communities use the service. Since then, there's been a consistent increase in usage.
Library Service Area And Patron WiFi Needs
In our first report, we analyzed data by comparing urban and rural service areas to determine if there was a difference in WiFi usage across the population sizes. Our data showed that library WiFi use in urban areas had the greatest decrease, although both urban and rural service areas showed a drop. There are a variety of social, cultural, and economic factors that contribute to these numbers, as we learned from conversations with our library partners. There's also plenty of national data referencing how the digital divide contributes to this. 
Patrons in rural service areas often rely on the public library as their main source of internet. 
Rural service areas have a higher percentage of the population that uses the library WiFi and showed more stable usage patterns since March. When schools moved to an online learning model for the remainder of the 2019-2020 school year, students needed a reliable source of internet to complete schoolwork. Libraries and school systems come together to bridge the gap and provide critical services for those who need them. The library has been a place for school children to use library computers to complete homework. Now, with library buildings closed, they don't have access to computers or WiFi. Schools and libraries are working together to loan laptops, provide mobile hotspots, and extend WiFi reach in library parking lots.
Breakdown of WiFi usage rates by service population size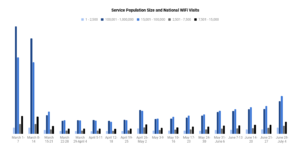 The graph above shows the WiFi usage rates of each population size from March 1 to July 4. The most drastic change in usage rates was in the 100,000-1,000,000 population size group, which still hasn't regained half of its previous WiFi usage rates. Another interesting metric is the 1-2,500 population size group, which has now regained nearly all of its previous WiFi usage rates. Smaller population areas have also recovered a higher percentage of WiFi use compared with numbers from March. See the graph below.

Timeline of events, key dates, and COVID-19 effects on public library WiFi use
In our initial report, data showed that there was a clear change in WiFi usage between March 11-15, which correlated with national events related to the coronavirus. There have been significant events since that surrounding the increasing number of coronavirus cases and economic impact, see bullets below. However, there isn't a clear correlation between WiFi usage rates and specific dates. It's worth noting that as these events unfolded – increased cases and increased unemployment claims – so, too, did public library WiFi usage rates. 
April 16 Around 5 million more Americans filed for first-time unemployment claims.

April 18 More than 700,000 people in the United States have tested positive for coronavirus. 

April 23 Another 4.4 million Americans filed unemployment claims, bringing the total to more than 26 million claims.

May 17 The number of coronavirus deaths in the United States surpassed 90,000. Confirmed cases in the country also rose to nearly 1.5 million.

May 21 Another 2.44 million Americans filed for initial unemployment benefits the week before, bringing the total number of people who lost their job so far during the coronavirus pandemic to almost 40 million.

May 26 The World Health Organization said the Americas had emerged as the new epicenter of the coronavirus pandemic.
Libraries are important to communities, especially in times of crisis.
Even before the coronavirus outbreak, lack of internet access was a big problem. Now, it's critical. Public libraries are on the front lines of this problem helping patrons stay connected to school, work, family.  They've also been important for social services such as filing for unemployment and completing the census which requires a connection to the internet.  The data is clear: WiFi is a valuable resource the libraries offer. Tracking this could prove to be beneficial in future library advocacy efforts. Questions about how to get insights for your library? Schedule a demo with our team.