Public Library Insights Q2 of 2022
The second quarter of the year saw the continued higher usage of WiFi among libraries of all population sizes. There was a steady, sustained increase for each of the months in the second quarter of the year. This resulted in a 31% increase when compared to the prior quarter of Q1 2022. This also resulted in a 93% increase when compared to the same quarter of the prior year, or Q2 of 2021. The same quarter prior year increase is particularly encouraging because it indicates that seasonality alone is not responsible for the jump in usage.
This data continues to show that we may be entering a post-pandemic "new normal" where a new baseline is being established. Library WiFi is now busier than it was during the height of the pandemic and consistently so across all months and population sizes for the quarter. Including March of 2022, we've now seen four consecutive months where the monthly WiFi usage was higher than in any month of 2021.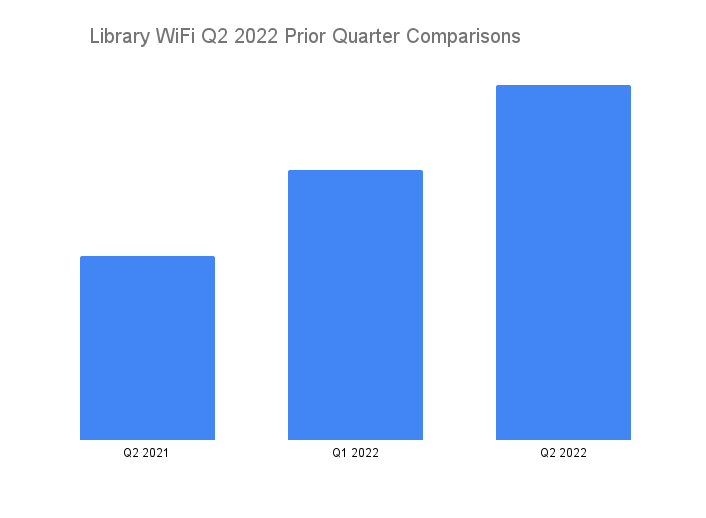 Steady results among all population sizes
One of the most remarkable things about this quarter was how consistent the public WiFi usage was at the libraries for every single month. We've yet to have a quarter where the growth or declines were this minor across all population sizes across each month.
The chart below shows a very stable WiFi usage number for each month and population group. Most of them showed steady usage neither increasing or decreasing by more than 7%, and only one group saw double digit changes.

Weekly WiFi usage by population size
Looking at the WiFi usage week over week broken down by population shows the same levels of steady use. Other than the Memorial Day holiday week of May 29th, you'll see how consistent the WiFi usage at the libraries was through the quarter. There were no major increases or decreases based on population, and only some variance between weeks of whether smaller or larger libraries were increasing or decreasing. Again, this is showing steady, consistent patron usage of library WiFi in Q2.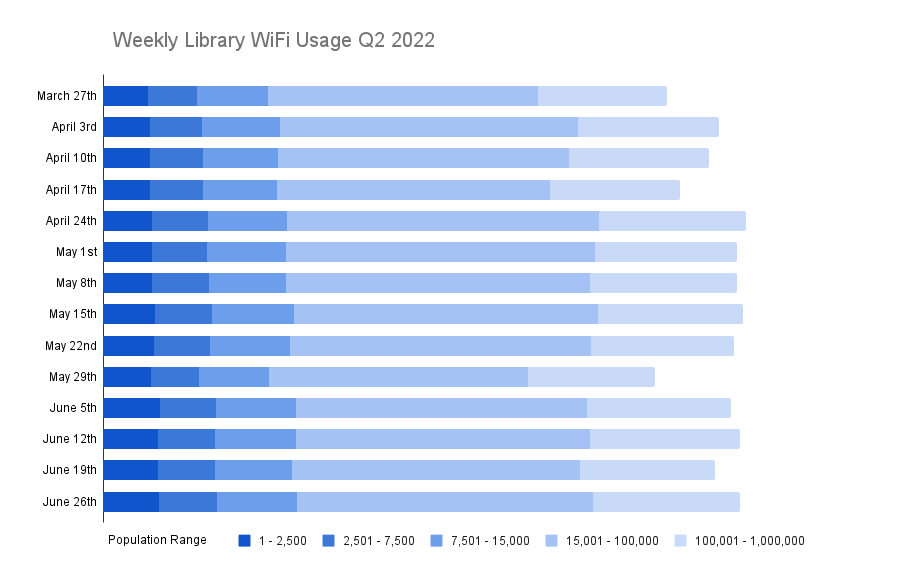 What does this mean for these libraries and how can they best serve their community going forward?
The data is clear: WiFi is a valuable resource the libraries offer to help their communities. As libraries begin to prepare for the year ahead and planning for the future, tracking WiFi usage could prove beneficial for library advocacy efforts, operational improvements, strategic planning, and accurate reporting for the PLS survey. Having such information can give libraries the tools they need to secure funding to provide more and better services, and even help guide decisions on how to best use their space.
July 2021 to June 2022 Results
Looking at the data over the last twelve months shows a story about how much higher the increase this quarter appears to be. All three months of Q2 were higher than any month in 2021. While February and March of 2022 had the highest percentage increases, April, May, and June are showing that the prior months were not just single data points, but establishing a new baseline.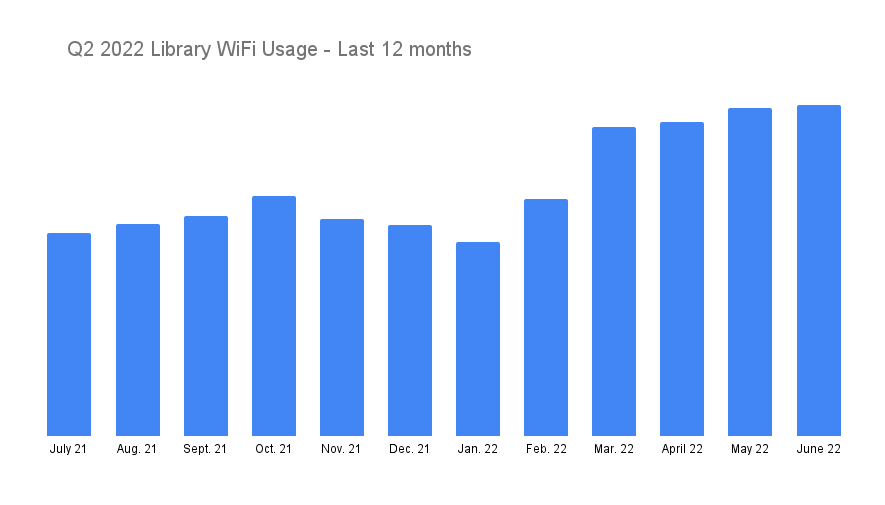 Carrying insights into the future
This data solidifies the importance of public libraries within the communities they serve. Throughout the pandemic, public libraries continued to help patrons stay connected to school, work, and family. In addition, they also continue to help provide social service assistance for their community members through filing for unemployment, Census registration, and job searches. In a post-pandemic "new normal" we expect to see continued use of the library WiFi by the communities and the patrons that they serve.