Public Library Insights One Year Into The COVID-19 Pandemic
The past year has brought many changes and challenges. And it's also created an environment for growth. Faced with uncertainty, libraries rose to the challenge and adapted their services to meet the changing needs of their communities. In many ways, libraries are able to meet patrons' needs now even better than before. The flexibility of these new offerings made it easier to reach additional community members, and our library partners think these changes are here to stay. It's helped libraries stay connected to their patrons even when separated physically. As we begin to emerge from the pandemic, WhoFi analyzed the data from our library partners to determine the effect of COVID-19 on patron WiFi usage. This special report includes our findings from March 2020 to March 2021.
Reflecting back on a year of pandemic life, how has COVID changed library WiFi use?
The COVID-19 pandemic certainly brought about many changes in the way patrons interact with their libraries and how libraries serve their communities. When analyzing WiFi insights data and looking for usage trends, there are some clear fluctuations in use that seem to correlate with particular service areas, important timelines in the pandemic, and library outreach efforts. 
One interesting data point, perhaps the most relevant when it comes to library advocacy for WiFi access expansion, is that library WiFi usage was never zero. WiFi use did decline, especially early in the pandemic, but then began to steadily increase across cities and towns of all population sizes. A PLA survey report showed that 98% of libraries closed to the public in March due to COVID-19. However, the WiFi data from our insights showed a national decrease in WiFi usage of only 67%. This shows patrons were accessing the library WiFi in other ways besides actually being in the physical library building. The same PLA survey also noted that 81% of libraries decided to leave their WiFi on and available to the public. Since a high number of libraries left WiFi available to the public, the drop in usage of only 67% makes sense.  
The digital divide became the digital Grand Canyon.
Public libraries have consistently worked to close the digital divide. But as the pandemic continued, it became clear that the digital divide was becoming bigger. There was a difference in how the pandemic was experienced between those with access to a computer and high-speed internet and those without. As schools finished their academic year in May of 2020, heartbreaking stories of children sitting all day in fast-food parking lots with their laptops started to emerge. They didn't have internet access at home, and they were just trying to finish their schoolwork which was now online.  
Many libraries took it upon themselves to address this issue within their communities with the resources they had. Many libraries left WiFi on 24/7, removed or provided passwords to their WiFi, moved routers closer to the window, and began promoting their free WiFi service. Some libraries installed WiFi hotspots to extend to the parking lot, creating a 'drive-in WiFi' trend. Some libraries also sent out loaner 4G hotspots or installed fixed line internet connections in some neighborhoods. This helped people attend online classes, do work, or just stay in touch with friends and family.  
The PLA survey showed that 81% of libraries left their WiFi on while closed, and 12% expanded or added to their WiFi service in response to the pandemic. 
These efforts seemed to make a difference and were reflected in the data as WiFi usage began to steadily climb in Spring 2020.
Public libraries adapted quickly to meet community needs.
In addition to improving community internet access, libraries made changes to multiple aspects of their patron services. Public libraries provide immense value to the community through education, resources, and programs. The pandemic showed that the library community is more than just a building – it's the people. And when buildings close and people are sheltering in place, the community moves online and finds other ways to stay connected. 
Libraries were quick to adapt their services to meet safety precautions – offering online library card registration, curbside pick-up for books, crafts and STEM projects, online storytimes, expanded digital resources, easier access to library cards, and curbside pick-up for other essential services (unemployment forms, PPE, food, diapers, and so much more). 
When did patron behavior begin to change?
Were there key events that could have made a difference in patron behavior and WiFi use?
Based on our data and national timeline of events, it seems so. Our report on the timeline of events shows a sharp decline in WiFi use beginning March 11, 2020 with the sharpest declines occurring on March 13th, 14th, and 15th. March 11th was the day the NBA suspended its season after a Utah Jazz player tested positive for coronavirus, and also the day that Tom Hanks and Rita Wilson tested positive. March 12th was the day that MLB, NHL, and NCAA basketball announced suspension or pause of their events. Then, on March 13th, President Trump declared a national state of emergency. At this point, many local governments issued shelter-in-place orders, effectively closing many library locations. 
As always, correlation does not equal causation. It's unclear if these national events were the cause, a tipping point, or a random occurrence that correlated with the data. In either case, it is clear that a trend change to a "new normal" occurred between the days of March 11th and March 15th as shown through the WiFi data in the chart below.  
What does patron WiFi usage look like now?
Our data shows that after the initial drop in WiFi usage in March, trends steadied and then began to rise around April 26. The total number of visits wasn't as high as it was prior to shut-downs, but shows continued use despite building closures. By the end of June, the national WiFi usage rates had increased 40%, and have had another 35% increase from June to September. By the end of Q3, national WiFi usage in public libraries was at 73% of what it was in March. 
Q4 showed a slight decrease in usage. Although, there is usually a seasonal decrease in WiFi usage during the winter months. However, coronavirus cases also spiked in much of the U.S. between the middle of October 2020, until decreasing significantly towards the middle of February 2021 as shown here: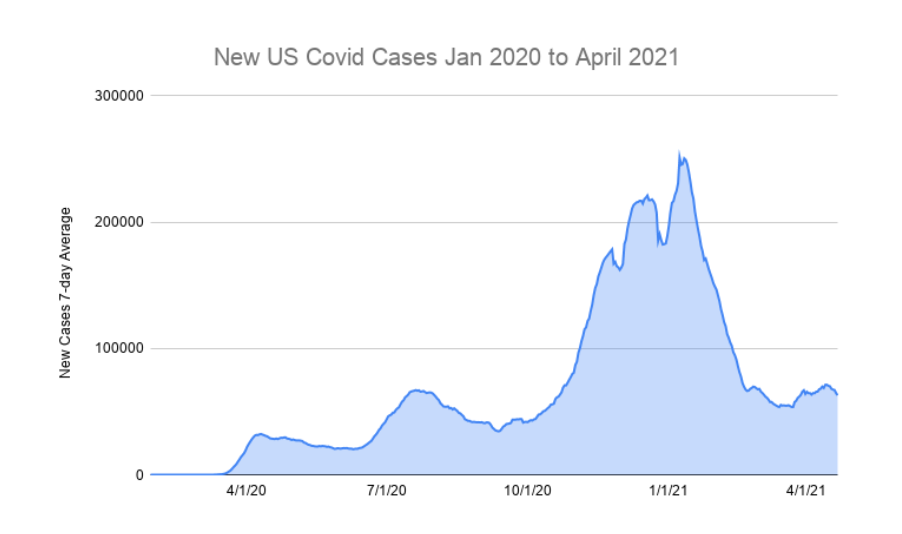 It is unclear whether it was the colder weather, the virus, or some other factor causing the decrease through the winter months. However, as vaccinations were deployed, reopenings occurred, and the weather got warmer, there is a new higher WiFi usage trend that appears to be starting in March of 2021.  
The graph below shows an overview of monthly WiFi usage from March 2020 to March 2021 sorted by population size. Now, at the end of Q1 2021, WiFi usage is at 68% compared to March 2020 and climbing back to Q3 usage rates.  
Did population size affect WiFi usage? 
Our data showed that library WiFi use in both urban and rural service areas decreased, but urban areas had a much greater drop. And throughout the pandemic libraries in rural areas had a much faster return to pre-pandemic WiFi usage rates compared to libraries in urban areas. In fact, by November 2020, rural libraries regained nearly 100% of their WiFi use (compared to March 2020.) 
Patrons in rural areas often rely on the public library as their main source of internet, and we've seen this reflected in the data. The table below shows the percentage of WiFi use libraries are experiencing in March 2021 compared to March 2020. You'll notice that rural communities with populations under 2,500 are being used even more now than they were when the pandemic started. Libraries are anchor institutions from which services such as WiFi can be easily distributed to communities that lack infrastructure. Libraries can use this information to advocate for funding to secure high-speed broadband internet access and other technology resources for their patrons. 
What does this mean for these libraries and how can they best serve their community going forward?
The data is clear: WiFi is a valuable resource the libraries offer to help their communities. As libraries begin to prepare for the year ahead and planning for the future, tracking WiFi usage could prove beneficial for library advocacy efforts, operational improvements, strategic planning, and accurate reporting for the PLS survey. Having such information can give libraries the tools they need to secure funding to provide more and better services, and even help guide decisions on how to best use their space. 
Carrying insights into the future. 
This data solidifies the importance of public libraries within the communities they serve. Even before the coronavirus outbreak, lack of internet access was a big problem – now it's critical. Throughout the pandemic, public libraries have continued to help patrons stay connected to school, work, and family.  In addition,  they continue to help provide social service assistance for their community members through filing for unemployment, Census registration, and job searches.
As we begin to emerge on the other side of this pandemic, the knowledge we've gained from WiFi insights will continue to influence how libraries interact with the communities they serve. 
Questions about how to get insights for your library?  Schedule a demo with our team.