How Stubbs Memorial Library Advocated for Mini-Park WiFi Expansion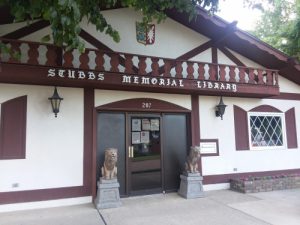 Emily Todd began her work at the Stubbs Memorial Library in 2014 before becoming director in 2017. Born in Holstein, she has a passion for the community there and her predecessors were no different. Since 2010 Stubbs Memorial Library has offered 24/7 WiFi access to patrons but did not have a way to estimate WiFi usage outside of library hours making advocacy difficult.
As a free local resource patrons visit libraries like Stubbs Memorial to use the internet for work, research, and personal development everyday. However, putting these experiences to paper can be a challenge to the people advocating for the library, especially while protecting the privacy of their patrons.
Libraries play a critical role in the community providing for those lacking internet access as patrons increasingly rely on stable connection for everyday activities. While all libraries report on their internet usage for the state report, the methods used to gather the information often involve estimations or complicated processes. These processes can result in incomplete information that misses engagement with patrons.
Advocating for Expansion
Libraries who share their WiFi usage and the stories behind them are better able to advocate for boards to expand services for patrons and thereby improve communities. In fact in 2020 Emily was able to utilize WiFi usage data from WhoFi and stories of patrons using the WiFi after hours sitting near the doors of the library to advocate for an expansion of the service. Emily said that WhoFi's WiFi usage service, "allows us to give real numbers and stories to support keeping our WIFI on 24/7 as a service."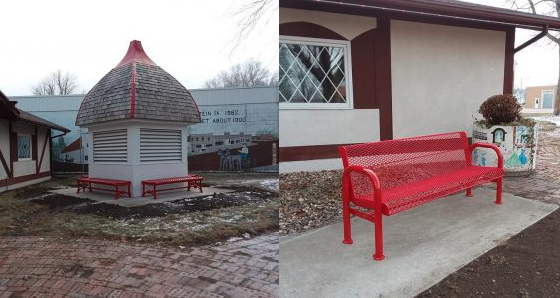 Since 2020 the Stubbs Memorial Library Mini-Park has provided WiFi thanks to a grant from the PLA and Microsoft.
As communities connect more and more via the internet for communication, learning, and development, having access is critical for individuals. For the Stubbs Memorial Library adapting to a world of personal devices means that some patrons will continue to use library services without even entering the building.
Mini-Park Revitalization
Since 1976 visitors to the Stubbs Memorial Library have also been able to pay a visit to the mini-park that began as a volunteer Earth Day project. Now patrons and visitors to Holstein can visit the library's mini-park any time to charge and connect devices to the library WiFi. This new expansion includes new benches, picnic tables equipped with outlets and of course extended range to the park for patrons using library WiFi.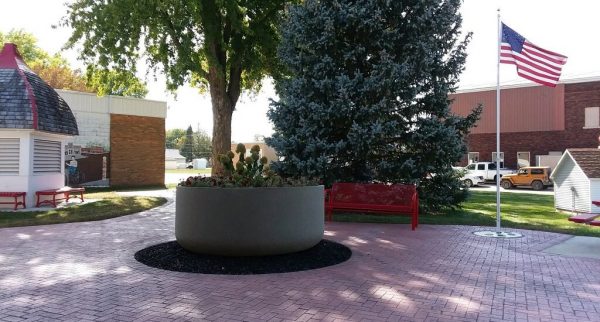 Emily said that adding this service serves the community visibly but also those patrons who do rely on having internet access around the clock. The Mini-Park at Stubbs Memorial Library is a fantastic example of libraries seeing and meeting the needs of their community. While the Mini-Park is a unique concept, the need for internet access exists in every community. Libraries are well positioned to meet this need as the digital divide remains a pervasive issue.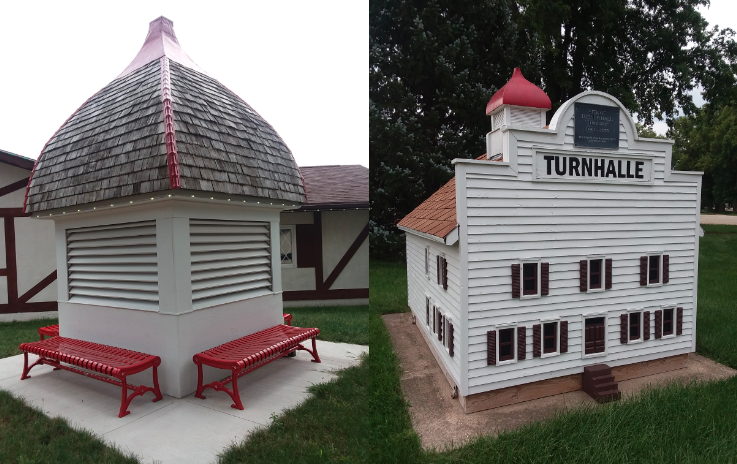 If you would like to learn more about advocating for your library or community space with WiFi usage insights, please click the button below to connect with us! We would love to hear from you and learn more about your current needs.