Public Library Insights Q1 of 2022
The first quarter of the year saw broad based increases in WiFi usage among all population sizes. In previous quarters, rural population areas had an increase in usage much sooner than urban areas. Then over time we saw urban areas begin to catch up with rural areas on a percentage basis.
This is the first quarter since the pandemic began that WiFi usage rates for all population areas experienced continued increases.
This could be attributed to a variety of things and events that coincide with the steady increase in WiFi usage. Libraries are fully reopened to patrons, mask mandates are dropping, vaccines are and have been widely available, and the Omicron variant surge began to subside mid January.
In fact, when we compare March 2021 to March 2022, there is a 96% increase in WiFi usage. That level of percentage increase indicates trends may be shifting to a post-pandemic "new normal."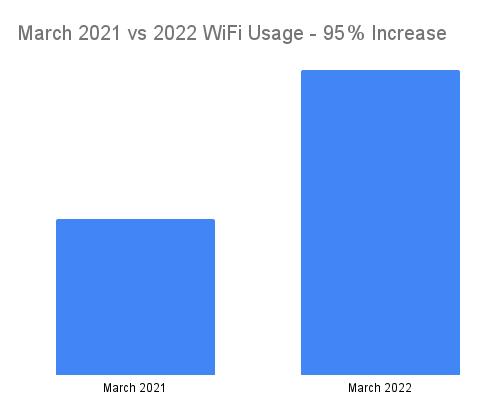 Increase in WiFi usage among all population sizes
For the first time since the pandemic began, libraries in all population sizes are seeing WiFi usage rates get closer to their historical norm. One thing is clear and it's that the community needs the public library's WiFi and is showing up to use it and the services provided in the space.
The chart below shows just how much of an increase there's been this quarter.

Comparison monthly usage
Looking back at the previous months WiFi usage provides a good comparison for the increases we saw in February and March 2022. The graph below highlights the steady rise in February with a larger increase in March.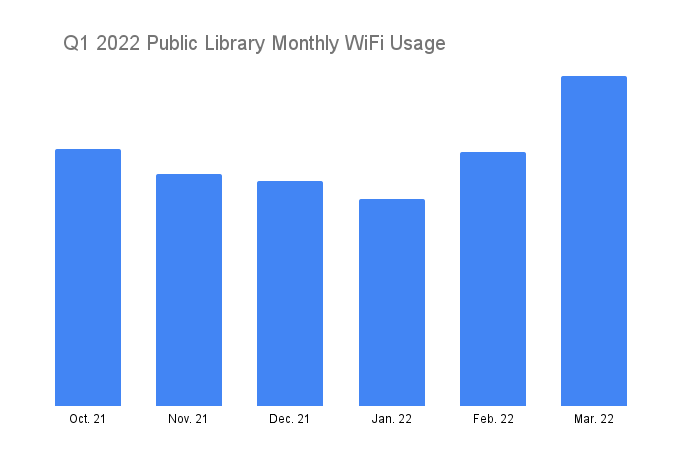 WiFi usage by population size
In previous reports, our data showed that library WiFi use in both urban and rural service areas decreased, but urban areas had a much greater drop. And throughout the pandemic libraries in rural areas had a much faster return to pre-pandemic WiFi usage rates compared to libraries in urban areas. Now both urban and rural libraries are seeing equally increasing rates of WiFi usage.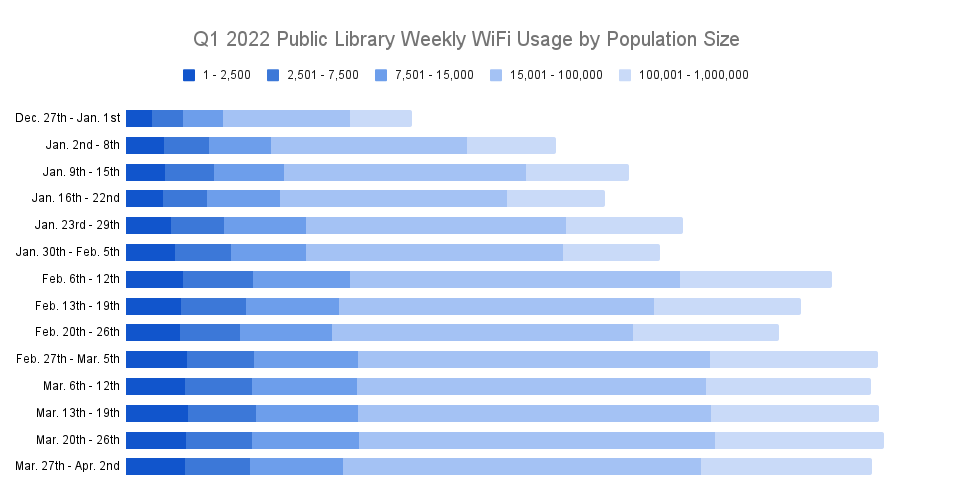 2021 into Q1 2022 Comparison
Looking even further back shows a story about how much higher the increase this quarter appears to be. It's always difficult to forecast, but if these trends continue, we would expect to see even higher summer numbers than are already being recorded.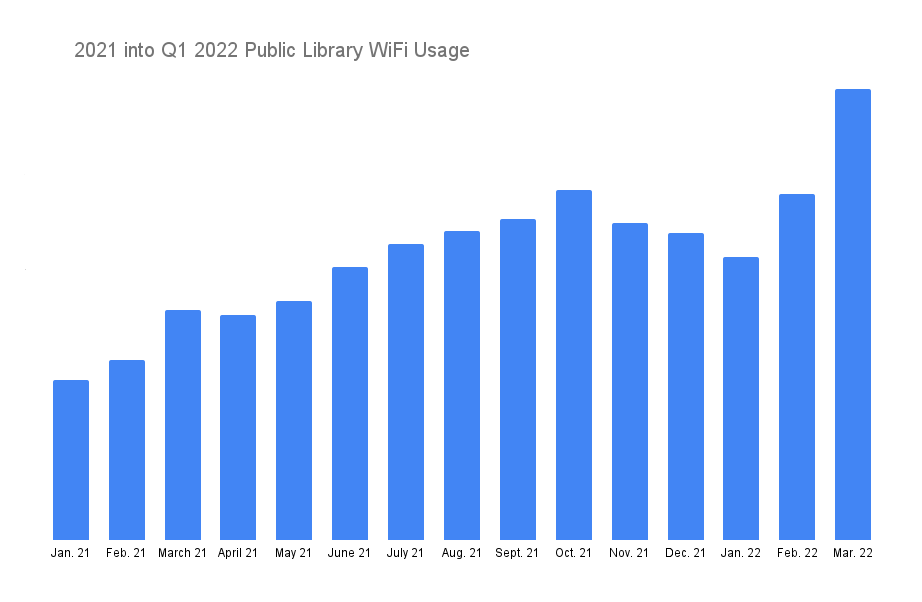 What does this mean for these libraries and how can they best serve their community going forward?
The data is clear: WiFi is a valuable resource the libraries offer to help their communities. As libraries begin to prepare for the year ahead and planning for the future, tracking WiFi usage could prove beneficial for library advocacy efforts, operational improvements, strategic planning, and accurate reporting for the PLS survey. Having such information can give libraries the tools they need to secure funding to provide more and better services, and even help guide decisions on how to best use their space.
Carrying insights into the future.
This data solidifies the importance of public libraries within the communities they serve. Throughout the pandemic, public libraries continued to help patrons stay connected to school, work, and family. In addition, they also continue to help provide social service assistance for their community members through filing for unemployment, Census registration, and job searches. In a post-pandemic "new normal" we expect to see continued use of the library WiFi by the communities and the patrons that they serve.