Public Library WiFi Usage Insights Q3 2022
Sustained growth has been an ongoing theme in 2022 and the third quarter proved to be no exception with an 8% increase in public library WiFi usage compared with the prior quarter. Looking at data from the Summer there seem to be some interesting trends emerging compared to last year. Particularly the change among certain service population ranges. Reviewing usage trends we have identified fluctuations in usage relevant to library service offerings and how patrons will interact with libraries in the future.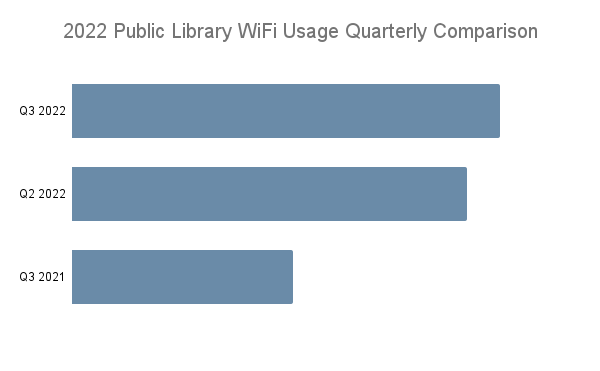 As the world faces a "new normal" there are some activities that have clearly changed since before the COVID-19 pandemic. This includes the time and manner in which patrons use the library services. Libraries have expanded their WiFi offerings to provide their communities 24/7 access, stronger signal, and even extended range for patrons outside of the library proper in nearby outdoor spaces. Regardless of the cause it is clear that patrons are making sustained use of libraries' WiFi offerings.
Compared with the third quarter of 2021 WiFi usage has increased dramatically by 94% this quarter as can be seen on the right.

Sustaining Growth in WiFi Usage Year-Over-Year
Digging deeper into the growth we can see over the past quarters just how much public library WiFi usage has grown. Compared with year-to-date usage in the third quarter of 2021, the third quarter of 2022 saw usage increased by 105% more than doubling last year's activity. This metric is exciting to see as it further indicates the importance of the free WiFi for community spaces in the digital age. Patrons use public library WiFi at increasing rates indicating this metric will continue to be important to keep up with for advocacy purposes.
Weekly WiFi Usage by Population Size
Over the course of the quarter, weekly WiFi usage remained fairly consistent over time with a few notable exceptions. The weeks of the Fourth of July and Memorial Day experienced small dips in usage as in years previous as you can seen on the right. June and July saw nearly identical WiFi usage rates and resumed the typical seasonal increase in usage through August and into September. While there was variance in growth among the service population  ranges each group had an overall increase in the third quarter.
October 2021 to September 2022 Results 
As we approach the new baseline of patron utilization referenced in previous reports, libraries continue to set post-pandemic records for WiFi usage every month. Every month since March 2022 has had greater usage than October 2021, the highest usage month for that year. We are seeing less and less unattributed change as we grow closer to the new baseline. This means libraries have an opportunity to measure the impact of the changes they are making without skewed results due to the pandemic.
What does this mean for these libraries and how can they best serve their community going forward? 
We will keep an eye out this Winter to note any non-seasonal trends in usage. It is clear from the data that patrons continue to utilize library WiFi in greater numbers. This valuable community resource is important now more than ever in a post-pandemic society. This is due in part to new remote workers and distance education learners. Advocating for these patrons will be critical for libraries to thrive in the digital age.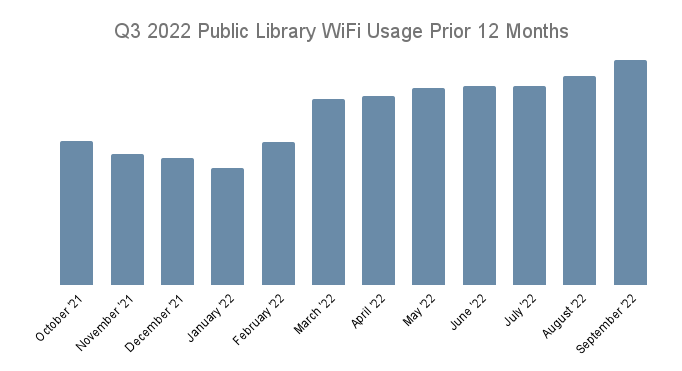 Please contact us if you would like to simplify your library's reporting process!